Thank you to journalist/author awesome mom Donna Bryson and the Christian Science Monitor!
Pittsburgh Ballet is a pioneer in opening the performing arts to people with sensory sensitivities, including bringing in special education teachers as volunteer ushers and encouraging audience members to do whatever helps them engage.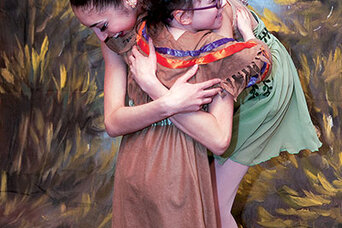 Children with autism clapped exuberantly as Pittsburgh Ballet Theatre dancers kicked and leapt to Tchaikovsky.
Pittsburgh Ballet is a pioneer in opening the performing arts to people with sensory sensitivities. Strategies include bringing in special education teachers as volunteer ushers and encouraging audience members to do whatever helps them engage. Christina Salgado, who oversees Pittsburgh accessibility initiatives, said the result can be a bonus for performers. "You could see the joy in the dancers' faces" as the audience kept the beat during the Russian dance in "The Nutcracker" last season, Ms. Salgado said.
Lisa Goring, chief program and marketing officer of the research and advocacy group Autism Speaks, pointed to stagings of "The Curious Incident of the Dog in the Night-Time" in New York and London, which had toned-down sound and light effects, as more evidence of theaters adapting. Ms. Goring has advised the audience diversity nonprofit Theatre Development Fund and since 2011, the fund's Autism Theatre Initiative has presented Broadway performances including "Wicked" and "The Phantom of the Opera."
Julie Marshall, who studied music at the University of Colorado, had looked forward to sharing live performances with her daughter, who was diagnosed with autism. But at one concert, an usher asked her family to move after another music lover complained about Sarah's "conducting." "Our kids are told what to do and how to behave so much in their lives," Ms. Marshall said. "They rarely get to enjoy music and express who they are on their own terms."
Marshall started the nonprofit organization BrainSong in 2011 to organize visits by professional musicians to special education classes. BrainSong also produces concerts. Last year, BrainSong raised funds to subsidize tickets for the Boulder Ballet and the Boulder Philharmonic's first performance of an autism-friendly "Nutcracker."
http://www.csmonitor.com/The-Culture/Arts/2017/0321/Arts-orgs-adapt-for-visitors-with-special-needs
---
Lafayette News
Nine-year-old Jake Hostelley does not speak, but he has a lot to say.
The Longmont resident has severe speech apraxia making it nearly impossible for Jake to express himself verbally. So, he signs.
"I'm hungry," Jake signs to his mom, Kareny. "I want pizza."
Jake has no problem communicating his thoughts through sign language, but sometimes it's difficult for Kareny to keep up with her son, which is why this summer she started attending free signing classes in Lafayette.
Sign-language interpreter Jennifer Kuzminsky launched the American Sign Language class in July to improve communication between counselors and clients with disabilities at Lafayette-based nonprofit Imagine!, where Kuzminsky worked during the summer.
Now, Kuzminsky welcomes anyone seeking sign language education to the Monday night class.
"We want all of the families and kids to have access to communication, whatever that means to them," Kuzminsky said. "The goal is to help families communicate with each other."
Lafayette resident Julie Marshall helps coordinate and promote the class, which her daughter, Sarah, inspired.
Nearly six years ago, Marshall discovered her autistic daughter was responding to signs the pair memorized from a series of videos called "Signing Time," which Sarah watched religiously.
"I'd do the sign for play or book to her and she'd say it back to me, verbally," Marshall said. "The visual cues were working for her."
Marshall continued using signs she learned from the videos but a sign language teacher at school was expensive. Marshall shared the family's challenges with Kuzminsky during an Imagine! program and the class was born.
Three months later, Marshall, Sarah, 11, and Sarah's sister, Jazzy, 8, were signing to each other on a playground while they waited for Monday's class to begin.
Kuzminsky leads the informal sessions that focus on casual signing lessons based on the needs of participants and offer a relaxed environment for children and adults.
This week, at New Church of Boulder Valley in Lafayette, which donates classroom space for the sessions, the Marshall family was joined by three other families ready to work on their signing skills.
Like the Marshalls, Erika Herreria and Kurt Dunlap are regulars hoping to ease communication with their 2-year-old son, AJ Dunlap Herreria.
AJ has Down syndrome and permanent damage to his left ear, making it difficult for him to hear, Herreria said.
Despite his young age, verbal communication will likely continue to be a challenge for AJ , which the family seeks to overcome using sign language.
AJ knows about 50 signs already, including "more food," "help" and "thank you."
Herreria has noticed a difference in AJ's behavior since they began using signs.
"He's less frustrated now," Herreria said. "He used to just scream until we figured out what he wanted, but now he can tell us. It's not a perfect solution, but it's much better."
Sign language also is helping AJ learn verbal speech. Herreria said AJ often repeats words as a supplement to signs he performs.
Many participants in the class use signing as a supplement to speech — "just another form of communication," Kuzminsky said. But not Jake.
Jake knows more than 350 signs he uses to talk about Halloween costumes, his favorite colors or what he wants for dinner.
"Signing is his first language," Hostelley said. "We have a signing class at the school every week for 30 minutes, but 30 minutes isn't much."
Hostelley said the Monday night classes help her remember the basic signs she might not use everyday and often forgets.
But more than practice, Hostelley said the sessions provide extra support and encouragement the family has not found anywhere else.
"It teaches you to just go for it, not to be shy about the hand gestures," Hostelley said. "I think just being around these other families and watching them sign with each other and signing with Jake is really good for him."
Whitney Bryen: 303-473-1113, [email protected] or twitter.com/soonerreporter
---
---
PUBLISHED: | UPDATED:
Olga Kern's black gown cascaded over the grand piano bench, her hands engaged in a fervently romantic dance of notes penned by Rachmaninoff. Like a great personal gift, the virtuosa conjured melodies that soared high into the balcony where I sat with my daughter, Sarah.
The pulsing harmonies made it difficult to sit still in our plush velvet chairs. For my 10-year-old with severe autism, the task was impossible.
Like most children diagnosed with autism disorder, Sarah is compelled to awkwardly move her body in space and make strange noises, which explains why families like mine are banned from experiencing the performing arts. Our collective experience is a virtual sign in every lobby: No Autistic Kids Allowed.
Sarah constantly rocked in her chair that night and waved her hands as if conducting a symphony orchestra. Music has been a profound experience for Sarah, who at age 3 could sing her ABCs and "Twinkle, Twinkle, Little Star" pitch-perfect, but could not speak a coherent word. Watching Sarah absorb Kern's performance was an "A-plus" parental moment.
But I give an "F" grade to the usher who pulled us aside at intermission to ask if we could downgrade our seats — to ones much higher and further back — in Boettcher Concert Hall to appease someone who was complaining of Sarah's "conducting."
Numerous studies show that music, dance and theater all have a profound effect on kids with autism. The Boston Conservatory of Music has a unique music program for kids with autism, and trains master's-level music teachers to work with our kids. A national advocacy group, Autism Speaks, last fall sponsored a Broadway performance of Disney's "The Lion King."
"We had the most spectacular autism-friendly performance of 'The Lion King,' and we have had many groups from across the country reach out for guidance on how to replicate it," said the group's president, Liz Feld.
The Colorado Conservatory of Dance stepped up last winter with its stunning, autism-friendly performance of "The Nutcracker." And I can hardly wait for Simply Music, a national innovative music curriculum, to come out with its Gateway program, which teaches kids like my daughter to play the piano.
In our house, I'll often hear Sarah improvising random little melodies on the piano. Like every difficult challenge she has faced, I know she will one day play. Our children are intelligent, capable and motivated; they just need access to opportunities.
And providing access to music is life-changing. Harpist Pam Eldridge was floored the day a boy walked up to her harp after a concert and effortlessly plucked "Twinkle, Twinkle, Little Star." He's now her student. Whenever she gets bogged down with life, performing for kids with autism is "what lightens me," she says.
"Autism-friendly" can mean softer music and low lights for kids with heightened sensitivities, but most of all it means acceptance. It means the concert is for our kids, our families. We are center stage, not relegated to some remote and dark corner where we won't be "bothering" anyone. And we won't ever have to apologize or explain.
Julie Hoffman Marshall of Lafayette is mom to Sarah, 11, and Jazzy, 8.
To send a letter to the editor about this article, submit online or check out our guidelines for how to submit by e-mail or mail.
Art therapy program runs through May 3, returns this summer, fall
While carefully morphing the clay balls on her table into the shape of a ladybug, Jazzy Marshall, 8, giggles as she tells the room of children how her toys at home occasionally go missing.
The Lafayette resident often plays the role of the big sister, even though she is three years younger than her sister, Sarah, who has autism.
"My sister steals my toys from my room and that's how I know she was in there," Jazzy said. "Sometimes she sticks them in her mouth and that makes me nervous because she can choke on them, so I have to watch out for her."
Eleven-year-old Cata Maiocco chimes in echoing Jazzy's sibling challenges.
"My little brother puts my toys down the toilet," Cata said, sending Jazzy into a fit of laughter.
These conversations are the reason why Jazzy's mom, Julie Marshall, co-launched an art therapy program for siblings of children with disabilities.
ARTism: The Sibling Connection is a weekly art class that provides a safe space for Boulder County children to talk about the challenges they face at home.
"Jazzy really looks out for Sarah," Marshall said. "She's likes to be the helper but she had to grow up faster than a lot of kids because of it, so I wanted to do something for her, a time where she doesn't have to be responsible, where she can just have fun."
The program kicked off in January at Lafayette's Church of the Arts with support from Lafayette-based nonprofits Project YES and The Association for Community Living and driven by Marshall and art therapy student Megan Delano. The 12-week program moved to a donated room at the YMCA of Boulder Valley in Lafayette to accommodate growing attendance. Classes will continue Sunday afternoons through May 3 and organizers are hashing out the details for a monthly summer session and weekly fall session.
Lafayette potter David Beumee taught nine elementary and middle school students how to make clay plates during the March 29 class. Previous sessions have included acrylic painting with Louisville's Michael Symber, cloth books and papier-mache masks.
During the classes, students often talk about their siblings — most of which have autism, though the sessions are open to siblings of children with any disability. Other weeks, participants seem to revel in the uninterrupted attention they receive.
"We're encouraging conversations about shared experiences," Delano said. "We welcome them to talk about it, but it really started as a place that was just about them and the therapeutic aspect took more of a role once we got going."
Louisville resident Cata, 11, was mesmerized by the clay piled around her plate during the March 29 class as she decided how to decorate the blank canvas.
Cata's mom, Rosario, said the family's schedule is always dependent on her autistic son, Lucas, which makes daily activities difficult for Cata and her sister.
"Anything we do is on his schedule, because of his needs," Maiocco said. "This is a great opportunity for her to explore something she is interested in and to focus on herself."
Maiocco leaves Cata alone at the classes, giving her space to vent her frustrations and the freedom to say what she wants.
"Her other friends don't get it," Maiocco said. "It's good for her to be with other kids in similar situations who understand what it's like."
Boulder 6-year-old Aurora Wilson-Patterson was quiet as she added designs to her plate and listened to the other children tell stories about silly things their siblings have done until one of the children talked about her sibling's aversion to green food.
"My brother always eats Popsicles and he always takes two and they're always orange," Aurora tells the group before returning to her project.
The conversation bounced back and forth between art and autism seamlessly transitioning from the clay coil that lined one student's plate to the her sibling who refuses to wear clothes lately — another successful class, Marshall said.
"This is what we hope for," she said.
Whitney Bryen: 303-473-1113, wbryen@coloradohometown weekly.com or twitter.com/soonerreporter
---
I felt the true spirit of the holidays Friday night when I took my
daughter to an unusual "Nutcracker" ballet specifically performed for kids with autism and disabilities that make it impossible to sit still, be quiet and blend in. What unfolded was magical and more than I could have possibly anticipated.
When the professional dancers from Wonderbound (formerly Ballet Nouveau), along with students from Colorado Conservatory of Dance, took the stage, my 10-year-old daughter, Sarah, stood up and moved closer.
Row by row, she was magnetically pulled toward the beauty of Tchaikovsky's masterpiece and the athletic movement in front of her eyes, until she reached the first row and parked herself there for 90 minutes.
Sarah has severe autism and rarely focuses her attention. But on this night, she was mesmerized by the rare gift of this 2014 season. Her intermittent jumps for joy and squeals were met with smiles, because the performance was built for kids like her. No one told me to make her sit down, or be quiet. She experienced the night body and soul, and I was in tears watching from the sidelines.
After the show, a father told me how much he enjoyed watching Sarah.
Julie Wilkinson Manley, the school's artistic director and CEO, told me how much the performance meant to her dancers. The lights were on; the music was soft and I noticed the dancers were smiling beyond a stage affect due to the feedback from all the children who, like Sarah, were twirling in the aisles and making joyful noise.
This was a rare event of liberation for families like ours, whose kids cannot enjoy the arts. Shameful stares from concertgoers keep us at home, as if it were our parenting style rather than the manifestation of autism that is driving our kids to express who they are. A friend told me last week. "society won't change," but I disagree. And this performance is proof that there are amazing people who understand the immense joy of dance and music, and the profound effect it has on children who benefit wildly from immersing themselves in the moment.
If there is a universal message here, it is that our kids deserve to be treated to the same high quality of the arts as all children. They feel it; they experience it, they love it. There is no better joy for a parent than to see a child so blissfully happy. Thank you, Colorado Conservatory of Dance, and I hope your example proves fruitful for many more sensory friendly performances throughout Colorado in music, dance, and more.
Julie Hoffman Marshall lives in Lafayette.
To send a letter to the editor about this article, submit online or check out our guidelines for how to submit by e-mail or mail.
---
More Media:
PODCAST
Brainsong No Shushing Concert With Ana Claire and Julie Marshall
Piper Conducts! A VIDEO of Brainsong No Shushing Concert featuring the Colorado Symphony Orchestra Ensemble led by Catherine Beeson!
KGNU Interview: